Flexographic Ink Color Chart
Flexographic Ink Color Chart – Click on the color chart to see a high resolution image.
Flexographic Ink Color Chart. At Bag Promos Direct we offer many different types of imprint colors and styles including our flexographic ink imprint colors which can be printed on custom paper or plastic bags. Take a look at all of our products at bagprmosdirect.com. Call for pricing at 888-565-2235.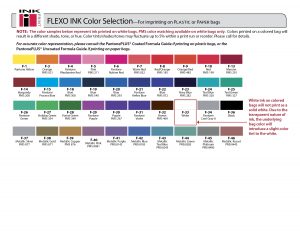 Bag Promos Direct is your #1 source for high quality non woven bags to choose from. We are your one stop shop for all eco friendly promotional products. We stock a large inventory of reusable grocery bags to choose from. Call or request a free quote today on any of our products including our eco bags and reusable bags wholesale. Or flexographic ink imprint process is intended for use on our wholesale paper and plastic bags. Call today for pricing on custom eco friendly tote bags and eco bags wholesale. See all options here.