Non Woven Totes: Reusable, durable premium non woven polypropylene totes come in a variety of GSM options. Customize your bag by changing up the handle or closure style. You can also add a pocket or using multiple colors. Take a look at our Laminated and Therm-O Totes for more great options!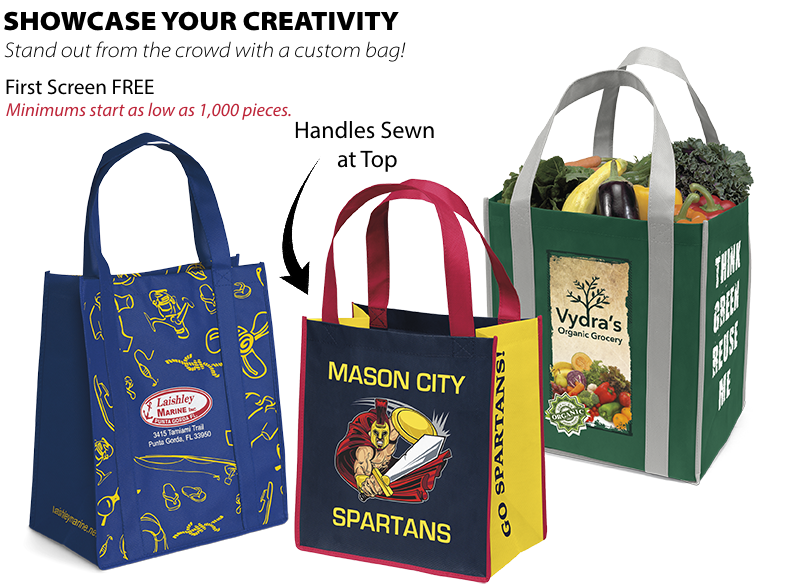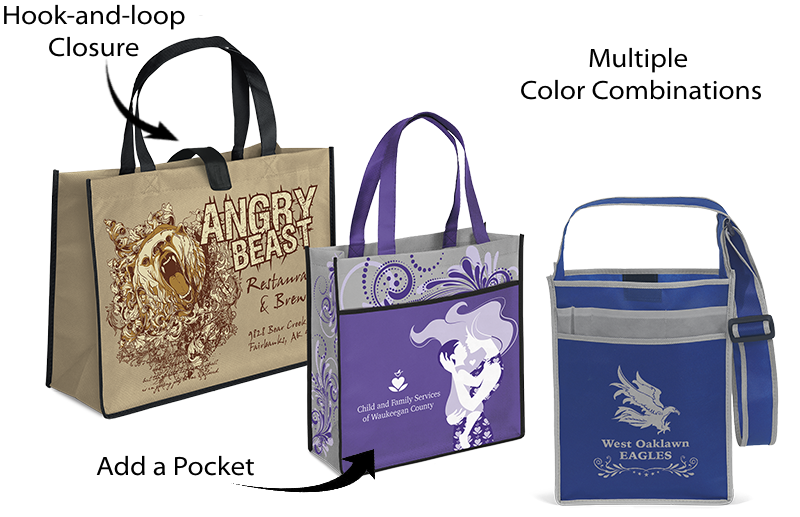 Non Woven Totes, Non Woven Bags
Our non woven bags are constructed from premium non woven polypropylene.
Ask Us About Eco Friendly Bags
The Society of Plastics Industry (SPI) code is a universal recycling symbol with a corresponding number that identifies the plastic composition of our bags. Our paper products carry the same universal symbol as plastic. However, paper is not assigned a number. You will find these symbols on product pages to identify the type of material used. This will also help you determine the applicability of recycling in your area.
Safety
Our products and coatings comply with the Consumer Product Safety Improvement Act of 2008 (CPSIA), the Consumer Product Safety Act of 1972, California Proposition 65, and the Toxics in Packaging Prevention Act. We have CPSIA compliant product labeling and an online recall tracking program for a core group of products that might be used by children under 12.
The following are U.S. Food and Drug Administration (FDA)-approved:
Our non woven and polyester materials
Specialty Bags
Therm-O Series
Thunder Totes
Sealable Paper Shoppers
Eco Friendly Bags Information
Most of our bags are reusable and many can be recycled. Society of of Plastics Industry symbols are provided to help determine if recycling is application in your area.

Paper bags, Cotton/Jute, Polyester bags, and Paper Tissue

PET Non Woven Polypropylene Bags

High Density "Frosted" Polyethylene Bags

Low Density "Glossy" Polyethylene Bags

Non Woven Polypropylene Bags and Sheer Elegance Tissue
The following contain recycled content:
Non woven material contains 20% post-industrial content.
Eco Kraft Shoppers are made with 100% recycled paper with a minimum of 60% recycled post-consumer content.
Also our ECO Sealable Paper Shoppers are made with 100% recycled paper with a minimum of 95% recycled post consumer content.
Eco Die Cuts contain up to 40% post-consumer and post -industrial content and up to 20% non-petroleum based cakcium filler, which reduces the use of petroleum-based resins by as much as 60%.